Accommodation near Znojmo and Austria
Hledáte kvalitní ubytování u Znojma? Už nemusíte! Nabízeme za velmi příznivé ceny ubytování v hotelu na vaší cestě za dovolenou do Chorvatska, Itálie a Rakouska.
News
Akce ubytování do konce května.
Skvělé ceny za ubytování až 20 % sleva při objednání do 1.4. 2012. Využijte náš rezervační formulář a ubytujte se již dnes!!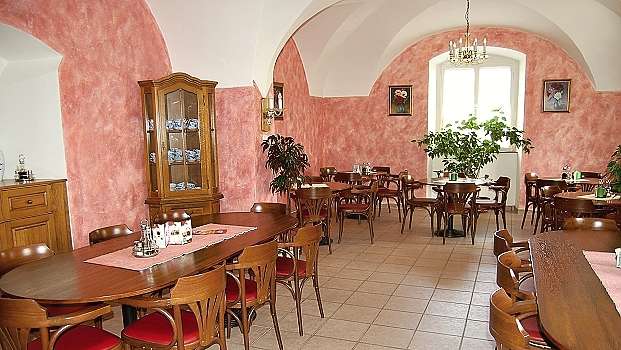 History
Kalle village (Chvalovice) was the first time in the year 1279 mentioned in the story. The Late Baroque to the buildings in the centre of Kalle village was built as the residence castle and the courtyard of Premonstratensians at Aue in Znojmo. Its emergence is estimated at the end of the seventies and achziger years of the 18 century.
The maker of the area was probably abbot Lamberk Rehor, who is also the builder of the large buildings of the monastery building on the Aue in Znojmo and the reconstruction of the Church of the Holy Marketa Kalle village in the year 1766.
The castle, several floors high, with three wings in a U-shape with his acts as a volume situated in the town of dominance. These include economic building: a former horse stable, a barn, a storage barn and an extended on the large rectangular courtyard.
The archive documentation on the history of Kalle village and the castle in the first half of the 20th Century does not exist. The lessee (around the year 1915) and later also the owner of the object was the innkeeper Josef Fichtl, the palaces are part of the year 1945.
After the departure of the Germans was removed from the Court of Josef Fichtl a Justizhof. The first head of the audit was an overseer of the upper Gefängnises Karel Kosina. On 20.4.1949 Kalle was in a single village cooperative economic decrees, which in 1952 the Court with a value of 3 424 388.80 Kč was sold.
The historical tradition, the origin of the building complex and its cultural value reached that the castle in the list of state-protected monuments legally registered. Currently, the castle into a stylish hotel with a restaurant that just its location, the Benachbarung with the border crossing is frequently travel abroad, but also for family trips, the holidays, for group travel or for family celebrations used.